Overview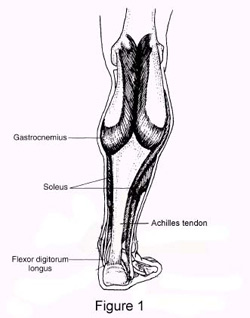 If you have pain along the back of your leg near your heel, you may have Achilles tendonitis. Achilles tendonitis is an overuse injury that commonly occurs in runners and ?weekend warriors?. The Achilles tendon is the largest tendon in the body. Named after a tragic hero from Greek mythology, it connects your calf muscle to your heel bone to allow you to jump, run and walk. Achilles tendonitis is most common in middle-aged men, but it can happen to anyone who has a sudden increase in physical activity. The risk is increased if you also have tight calf muscles and/or a
flat
arch in your foot. Other risk factors include running in worn out shoes, cold weather, frequently running uphill or if you suffer from medical conditions such as diabetes or high blood pressure. There are two main types of Achilles tendinitis: insertional and noninsertional. Insertional Achilles tendinitis involves the lower portion of the heel, where the tendon attaches to the heel bone. Noninsertional Achilles tendinitis is when the fibers in the middle portion of the tendon have started to break down with tiny tears, swell, and/or thicken. This type is more often seen in younger, active people. Both types can also cause bone spurs. Achilles tendonitis should be diagnosed by your doctor. However, if you experienced a sudden ?pop? in the back of your calf or heel, this might be
something
more serious like a ruptured or torn Achilles tendon. If this happens, see your doctor immediately.
Causes
Achilles tendonitis most commonly occurs due to repetitive or prolonged activities placing strain on the Achilles tendon. This typically occurs due to excessive walking, running or jumping activities. Occasionally, it may occur suddenly due to a high force going through the Achilles tendon beyond what it can withstand. This may be due to a sudden acceleration or forceful jump. The condition may also occur following a calf or Achilles tear, following a poorly rehabilitated sprained ankle or in patients with poor foot biomechanics or inappropriate footwear. In athletes, this condition is commonly seen in running sports such as marathon, triathlon, football and athletics.
Symptoms
Most cases of Achilles tendonitis start out slowly, with very little pain, and then grow worse over time. Some of the more common symptoms include mild pain or an ache above the heel and in the lower leg, especially after running or doing other physical activities, pain that gets worse when walking uphill, climbing stairs, or taking part in intense or prolonged exercise, stiffness and tenderness in the heel, especially in the morning, that gradually goes away, swelling or hard knots of tissue in the Achilles tendon, a creaking or crackling sound when moving the ankle or pressing on the Achilles tendon, weakness in the affected leg.
Diagnosis
X-rays are usually normal in patients with Achilles tendonitis, but are performed to evaluate for other possible conditions. Occasionally, an
MRI
is needed to evaluate a patient for tears within the tendon. If there is a thought of surgical treatment an
MRI
may be helpful for preoperative evaluation and planning.
Nonsurgical Treatment
Treatment options might include anti-inflammatory medication such as ibuprofen which might help with acute achilles inflammation and pain but has not been proven to be beneficial long term and may even inhibit healing. If the injury is severe then a plaster cast might be applied to immobilize the tendon. Use of electrotherapy such as ultrasound treatment, laser therapy and extracorporeal shock wave therapy (ESWT) may be beneficial in reducing pain and encouraging healing. Applying sports massage techniques can mobilze the tissues or the tendon itself and help stretch the calf muscles. Some might give a steroid injection however an injection directly into the tendon is not recommended. Some specialists believe this can increase the risk of a total rupture of the tendon in future. One of the most effective forms of treatment for achilles tendonitis is a full rehabilitation program consisting of eccentric strengthening exercises. There is now considerable evidence suggesting the effectiveness of slow eccentric rehabilitation exercises for curing achilles tendon pain.
Surgical Treatment
For paratenonitis, a technique called brisement is an option. Local anesthetic is injected into the space between the tendon and its surrounding sheath to break up scar tissue. This can be beneficial in earlier stages of the problem 30 to 50 percent of the time, but may need to be repeated two to three times. Surgery consists of cutting out the surrounding thickened and scarred sheath. The tendon itself is also explored and any split tears within the tendon are repaired. Motion is started almost immediately to prevent repeat scarring of the tendon to the sheath and overlying soft tissue, and weight-bearing should follow as soon as pain and swelling permit, usually less than one to two weeks. Return to competitive activity takes three to six months. Since tendinosis involves changes in the
substance
of the tendon, brisement is of no benefit. Surgery consists of cutting out scar tissue and calcification deposits within the tendon. Abnormal tissue is excised until tissue with normal appearance appears. The tendon is then repaired with suture. In older patients or when more than 50 percent of the tendon is removed, one of the other tendons at the back of the ankle is transferred to the heel bone to assist the Achilles tendon with strength as well as provide better blood supply to this area.
Prevention
To lower your risk of Achilles tendonitis, stretch your calf muscles. Stretching at the beginning of each day will improve your agility and make you less prone to injury. You should also try to stretch both before and after workouts. To stretch your Achilles, stand with a straight leg, and lean forward as you keep your heel on the ground. If this is painful, be sure to check with a doctor. It is always a good idea to talk to your doctor before starting a new exercise routine. Whenever you begin a new fitness regimen, it is a good idea to set incremental goals. Gradually intensifying your physical activity is less likely to cause injury. Limiting sudden movements that jolt the heels and calves also helps to reduce the risk of Achilles tendonitis. Try combining both high- and low-impact exercises in your workouts to reduce stress on the tendon. For example, playing basketball can be combined with swimming. It doesn?t matter if you?re walking, running, or just hanging out. To decrease pressure on your calves and Achilles tendon, it?s important to always wear the right shoes. That means choosing shoes with proper cushioning and arch support. If you?ve worn a pair of shoes for a long time, consider replacing them or using arch supports. Some women feel pain in the Achilles tendon when switching from high heels to flats. Daily wearing of high heels can both tighten and shorten the Achilles tendon. Wearing flats causes additional bending in the foot. This can be painful for the high-heel wearer who is not accustomed to the resulting flexion. One effective strategy is to reduce the heel size of shoes gradually. This allows the tendon to slowly stretch and increase its range of motion.